KC Pro West                   Rules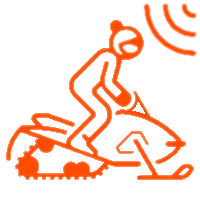 New For 2020
Transponders are required for classes Stock and higher!
We use International Snowmobile Racing (ISR) rules.
Please download the rules and read through the document.
To race with KC Pro West you must register with ISR.
Fill out Driver information
License section
A. chose participant
B. youth
C. Kitty kat
Answer medical question and submit
Driver and Parent meeting 9:30
Hot Laps to follow
Start racing at 10:00
The top 3 snowmobiles in each class will require Tech or their spot will be forfeit
Running order
Stock 120 (both heats)
B120 (both heats)
Stock 120 Final
B120 Final
Champ 120
200 (6-9)
Pro 206
Amateur 120
Open/Champ 206
Semi Pro 206
200 Outlaw
Improved Stock
200 (10-14)

Above: Race heat one in above order, followed by heat race two in above order, then Finals

Blast
Transition (10-13)
Transition (8 – 10)

Above: Race heat one in above order, followed by heat race two in above order, then Finals
SnoCross Classes
Beginner age 4
Amateur age 5-12
Stock 120 age 5-12
Improved Stock age 6-12
Semi Pro 206 age 6-9
Pro 206 age 7-12
Champ 120 age 7-14
Open/Champ 206 age 7-14
200 stock age 6-9
200 stock age 10-14
200 Outlaw
Junior age 8-10
Junior age 10-13
* Stock Final is ran after B's so all sleds can be switched over in time for improved stock. Top 3 will be teched immediately after Final is complete
KC Pro west specific rules
Semi-Pro gearing is now restricted, you must run a 3.0 on Arctic Cat and 2.88 on Polaris, but the combination MUST be 15/45 for Arctic Cat and 16/46 for Polaris. Also, you must run a green slide.
There can be NO ORANGE on the snowmobile per ISR safety rules. This includes decals, reflectors, seats, springs, numbers, etc. If it is orange it has to come off the sled or have tape placed over it. – This will be enforced, no exceptions.
In the B120, Stock and Improved Stock classes the taillight must be working when you come to the starting line. If the light does not work you will have (4) minutes to get it working or you will be a scratch from that heat or until it is working.
B 120 does NOT require a rev limited
Amateur, Stock and Improved Stock all REQUIRE a functioning rpm rev limiter.
Corner people are needed at each and every race, so please do your part as a member. Don't forget we are all in this together.
Your helmet must be 80% orange , per race directors discretion
Get updates on our upcoming events!